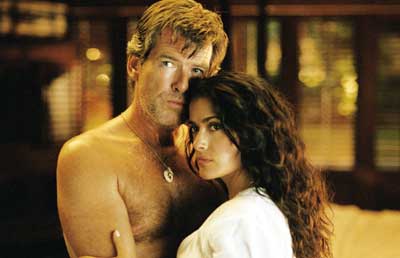 After the Sunset mixes the quirky plot of To Catch a Thief, the plucky tongue-in-cheek humor of Ocean's Eleven, and the character driven interactions of damn near every Elmore Leonard novel ever written (The Big Bounce's beach locale comes to mind). So why doesn't it work? Precisely because it reminds you of so many other better films. Nothing to see here, folks. Well, at least nothing new.
Bronson (Laws of Attraction, Die Another Day) plays Max and Hayek (Frida, Desperado) plays Lola, thieves and lovers who have retired to the tropics after one of the most lucrative jewel heists ever performed. Although they haven't seen action in some time, that doesn't stop Stan (Harrelson, She Hate Me), the FBI Agent they've befuddled every step of the way, to come after them in order to see if they're up to no good again. There just so happens to be an ocean liner nearby that contains a rare and valuable diamond, which causes conflict within the happy couple, as Max has that familiar itch, but Lola just wants to get married and live the straight and comfortable life.
The filmmakers of After the Sunset get all the ingredients right, but have no idea how to measure them in a way that makes for a tasty dish. Instead, everyone goes through familiar motions in predictable ways, in the hopes that by following the directions of others so closely, the same results will occur in the finished product. Without inspiration, it just doesn't ever rise to be anything more than a good looking, sexy diversion. It delivers the predictable goods, but never manages to cross into unexpected territory, content to play out like the b-movie that it is.
Homoerotic references abound between Max and Stan, the chaser and the chasee who are seemingly joined at the hip. Like Max's thirst for the thrill of the heist, Stan sees Max as his jewel, that ultimate crown that gives him an adrenaline rush, and he just wants a taste of what it will be like to turn the tables. Of course, most of the humor comes from the two adversaries linked by their love for the same game, and perhaps this love is more than platonic. Amusing, although a bit overdone.
After the Sunset is a completely disposable heist film, only of real appeal for those viewers too hungry to wait for Ocean's Twelve. I take that back -- the gorgeous Salma Hayek flashes a lot of skin in some very sexy outfits, so if you're obsessed, you may like this on a much different level than the rest. If neither of these applies to you, save yourself some time and money by skipping out on this derivative film from over-hyped director Brett Ratner (Rush Hour, Red Dragon), who gives us a good looking nothing of a movie. As vacuous as it is innocuous, there is great irony in the title, as After the Sunset has come out a few too many years after much better heist flicks have had their time in the sun.
Qwipster's rating: