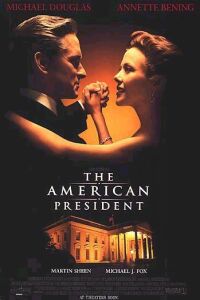 As played by Michael Douglas (Romancing the Stone, Coma), a liberal and widowed people-president looks to be re-elected easily. That is, until he takes a fancy to an environmental lobbyist (Bening, In Dreams). dating her openly during the race, causing much to the buzz within the media. Unfortunately, the media and his hateful opponent (Dreyfuss, Another Stakeout) play up the situation, driving the president's numbers down to the point of ruin. Now he has to decide to play it safe and win re-election, or do what he feels is right, risking everything.
The American President is an insightful and well-crafted political comedy-drama that rarely misses a beat. Director Rob Reiner (A Few Good Men, The Princess Bride) effectively creates a feeling of authenticity to the office of the president and his aides, while the leads are engaging in terrific performances.
Giving a nod to the father of the genre, Frank Capra, it's surprisingly light, even during moments of seriousness. While purely a fantasy, The American President gives us an authentically appealing look at what might be like behind the walls of the White House.
Recommended for any in the mood for a smart romantic comedy done with competence and professionalism by all involved.