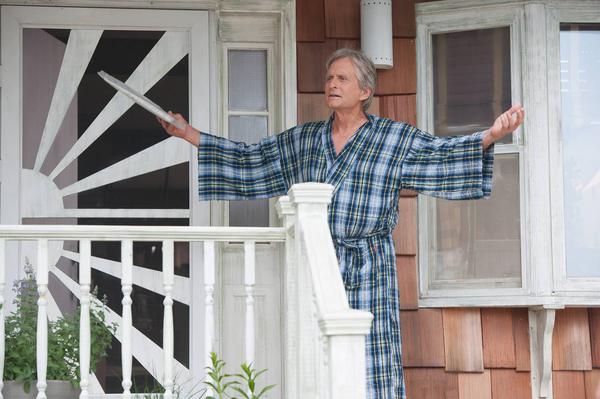 If you've been jonesing for a film of late that is in the vein of As Good As It Gets and Something's Gotta Give, and you don't mind vastly inferior quality, perhaps And So It Goes will be right up your alley. It's easy to confuse these films, as screenwriter Mark Andrus (Georgia Rule) also wrote As Good As It Gets, and Diane Keaton (Mama's Boy, The Family Stone) starred in Something's Gotta Give. The only real difference is the absence of Jack Nicholson, though Michael Douglas (Last Vegas, Haywire) does his very best to try to fill his voluminous shoes.
Douglas plays a veteran Connecticut real-estate agent named Oren Little, a bigoted widower looking to finally sell his family's posh but empty home worth millions. For now, he rents in a much smaller place, usually irritating his neighbors with his caustic views on life. It is there that he is visited by his son (Lysy, Arbitrage), about to do a stint in prison, who leaves in his care Sarah (Jerins, The Conjuring), Oren's estranged 10-year-old granddaughter. Oren isn't too keen on taking care of a kid when he has to hustle a home, so he leaves Sarah mostly in the care of his aspiring lounge singer neighbor Leah (Keaton). Oren's icy personality soon begins to thaw, not only as a grandfather, but also in perhaps feeling an attraction to another woman in the spunky widow Leah for the first time since his wife's passing.
Reiner, while a really lively and likeable personality in general, has fallen a long way since his heyday making films of quality in the 1980s, like This is Spinal Tap, The Princess Bride, and When Harry Met Sally -- all-time classics of their respective genres. Now he's making flicks that feel like they're being made for basic cable, with a lackadaisical, sentimental style and warmed-over groaners barely worthy of calling jokes. Silly jokes involving a dog who has a penchant for pooping in Oren's yard until the man stings him with a paintball gun, the same canine getting overly amorous with a large teddy bear, an older woman (Sternhagen, Bright Lights Big City) who spouts out crass insults willy-nilly, an older man who doesn't know how to deal with an emotionally needy child, and kids who yell and scream even when told not to, feel like secondhand material from Adam Sandler films over a decade old.
Diane Keaton's performance is probably the only aspect of this film that isn't uneven, as the tempo is buoyed by her ability to be endearing and deeper than the script generally allows, and she graces us with her nice singing voice for a couple of numbers. Douglas is hit and miss; he's always engaging, but he turns in a half-hearted effort, trying to add nuance to a characterization that's as thin as the paper it was printed on, and he probably knows it. A scene in which he must assist in the delivery of a baby may rank as the most inept in any film to date.
Unless you're an older person who enjoys these performers and don't mind a movie that plays like a hackneyed extended sitcom, there's really no one I could imagine recommending it to. You'll feel every minute of the 94-minute run time. Reiner attempts to tug at your heartstrings on a number of occasions, but his grip on that sort of material is arthritic at best. The only weeping you'll likely do is in seeing the kind of material such formerly top-shelf talent is relegated to churning out at this point in their careers.