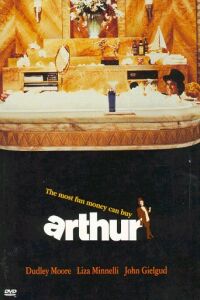 Dudley Moore (10, Foul Play) plays Arthur Bach -- rich, spoiled, immature, and drunk. Arthur is facing an upcoming "arranged" marriage, where he must marry the daughter of another wealthy family, or he will lose his $750 million inheritance. It's all planned out, but what wasn't in Arthur's plans is that he would meet a poor but spunky woman named Linda Marolla (Minnelli, New York New York), and that he would begin to fall in love with her. With hundreds of millions to lose, Arthur must choose between love and money, and to make his choice, he must finally grow up.
Arthur is one of Moore's most famous of roles, and also, one of his best performances as a comedic actor. He would receive an Oscar nomination for the performance, which he claims was inspired by his own relationship with his former partner in comedy, Peter Cook, and the experience of seeing him constantly forget his formidable worries in the comfort of a bottle. Although Moore clearly carries the movie, John Gielgud (Shine, The Elephant Man) steals the best lines, as the droll servant that alternately mocks and gives sage advice to the impish drunk that is in his care. GIelgud would earn an Academy Award for the role.
An Oscar would also go to director Steve Gordon for his screenplay. Gordon had previously dealt with the subject of an impudent man-child in his earlier script for The One and Only, which very closely echoes the same themes here, although Arthur does so with a bit more maturity and insight.
The one change I would make in the film is the casting of Liza Minnelli as the poor sweetheart Arthur has a thing for. No chemistry is evident between the two characters, and she offers very little in her character that is likeable, much less worthy of loveable, to make it feel like a genuine romance.
Still, the laughs are there, which ultimately makes Arthur a success, although a love of Moore's antics will certainly go a long way in your appreciation of the film. Ultimately, I'm scoring Arthur fairly low compared to other critics, as the one-joke nature of it, and some all-too obvious contrivances, does make it seem like a more ordinary comedy than many critics give it credit for.
-- Followed by a sequel, Arthur 2: On the Rocks.
Qwipster's rating: