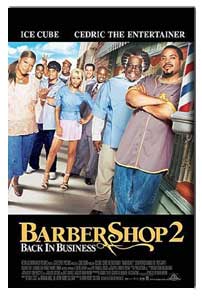 This is the sequel to the modest surprise hit, Barbershop, which depicted a "day in the life" of a Southside Chicago African-American owned haircut establishment. However, it's more than a place for a trim to some people, it has social significance, with a microcosm of people with different political thoughts and varied upbringing airing out their differences. Barbershop 2 continues the same trend, and in mostly successful fashion, tries to broaden the story by discovering the past history of the establishment, its significance to the community, and also the significance of the community itself. When the opening credits features a montage of popular icons and their hairstyles from the 50s to the present, you know that underneath the surface of this fairly light comedy, the creators are attempting to show that there's more to hair than just style -- it's a form of self-expression and identity.
That's not to say that this is an important film in any way from a historic standpoint, as it isn't very deep or particularly profound in any way. The plot is actually a routine one, with the neighborhood undergoing a facelift in the form of newer businesses, chain-stores and corporate establishments, a la Kinkos and Starbucks. This will make the neighborhood a much more lucrative place to work, with the influx of more traffic and prettier surrounding, but it also signals the death of the mom & pop stores in the area. Ice Cube (Torque, Three Kings) returns as Calvin, who stands to be the most threatened to go out of business when a larger, fancier haircut chain called Nappy Cutz begins to set up shop directly across the street. The threatening establishment is everything that Calvin's is not, with terrific advertising, fancy equipment, and even an indoor basketball court. With a greedy politician on the take, and a rival who threatens to bury him, Calvin and his crew set to wage war for the customers of that area.
Although many of the same players are back, Barbershop 2 does have a different director, Kevin Rodney Sullivan (How Stella Got Her Groove Back), and only one of the three original screenwriters, Don D. Scott. There are some noticeable differences, mainly in the style of comedy, which doesn't really deliver the big laughs of the first film. There's also an increase on the softer side, with flashbacks to a romance involving Eddie (Cedric the Entertainer, Intolerable Cruelty), Calvin's home life, and other sentimental touches throughout. However, it does maintain the spirit of the first film, utilizing the small touches to paint a bigger picture, and most of the time, it's pleasant enough to keep you entertained.
It still could have been a better film, as the plot is mainly a rehash of the local business threatened by the corporate establishment you've seen many times before, especially in socially relevant 70s shows like "Good Times" and "What's Happening?". Perhaps the weakest aspect of Barbershop 2 is its own excesses at times, needlessly running up to two hours in length, showing totally tangential elements (such as the aforementioned romance with Eddie and a woman he meets in the subway), and many minutes exploring a blatant attempt at a spin-off for Queen Latifah, who is to do Beauty Shop, a sort of chick flick version of Barbershop. I suppose it's ironic that a film that a a series of films that explores the values of small-time business owners and independent thinking is just a package by major studio to cash in by trying to establish its own franchise.
So, if you loved the first film, you should be pleased with this faithful sequel, even if it suffers from fewer laughs, more padding, and a half-hearted attempt at political relevance. It's still a likeable entity, and if it delivers a few chuckles, and the occasional food for thought, it's a worthwhile watch for any who like their comedies to be sassy, smart, and full of heart.
Qwipster's rating: