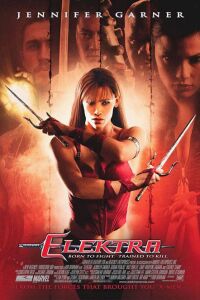 In the comic book world, Elektra has always been more of a third-tier "superhero", who has had her purpose and enjoyed a brief moment in the spotlight due to her philandering with a well-known character as written by one of the finest writers in the comic industry, Frank Miller. Her perceived popularity brought about the seeds of her resurrection, and her own title, but when you expand on something without having any richness in detail, you begin to see all of the flaws. Elektra, the movie, suffers the same fate.
Elektra is more or less inspired by events in the comic books that tell a similar story, whereby Elektra Natchios (Garner, 13 Going on 30) is resurrected through some sort of ancient Eastern ritual, and must fight supernaturally powered enemies known simply as The Hand. Here we have Elektra playing her usual role as assassin-for-hire, whose latest job involved snuffing out a man, Mark (Visnjic, Practical Magic) and his precocious 13-year-old daughter, Abby (Prout), with whom she has become acquaintances with. Elektra finds that she can't go through with it, so the job is turned over to the dark forces of The Hand, forcing Elektra to play bodyguard for the man and girl.
While there were very few clamoring for a sequel to the marginally commercially successful Daredevil, some people were nevertheless intrigued by the notion of a spin-off involving that film's most alluring character, Elektra, as played by Jennifer Garner. The problem here, which is the same problem I have with the comic which inspired this plot, is that Elektra on her own isn't a particularly interesting character, except how she complicated the life of Matt Murdock in "Daredevil". Without this angle, she is just a female ninja assassin without much depth. Devoid of humor, pathos, or complexities, Rob Bowman's (Reign of Fire, The X-Files) direction instead concentrates on style and mood, which doesn't really jibe well with the somewhat melodramatic script, which tries to give us the semblance of emotion without vesting much interest in fleshing out the characters past their usual archetypes.
Elektra had the chance to be a decent spin-off, with a good cast, nice special effects, and some well choreographed battle sequences, but what's missing is an interesting story. The real problem is that comics are sometimes influenced by conventions as played out in movies, and just about every cliché involving master/student squabbles, finding one's own path, and female assassins, adhere strictly to well-known formula throughout.
Without any real spins, Elektra offers little else to hold our interest. Overwrought in ambience, and without the merest trace of humanity, a sense of humor, or its own unique style, it lacks a necessary sense of fun or adventure. The script is written to have heavy-handed, emotionally weighty, dramatic turns of events, but with the exception of flashbacks to Elektra's troubled childhood, there just isn't any connection for us to feel empathy with her plight.
Too much introspection, and not enough circumspection, Elektra often comes off as silly, nonsensical, and superficial, which for a film made by people who want us to reach deeper understandings and dramatic conclusions, proves to be a disaster.
Qwipster's rating
: