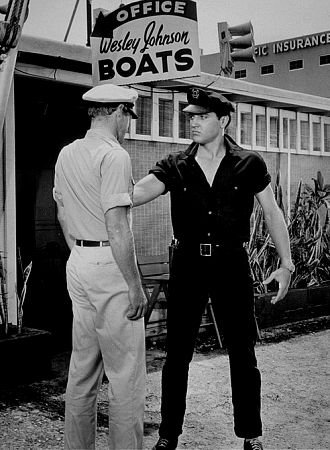 The King of Rock N' Roll made a few movies, mainly musicals like GIRLS! GIRLS! GIRLS!, which are no doubt readily eaten up by his legion of fans. For the rest of us, seeing an Elvis film is a bit of a mixed bag, with a mix of goofy fun and cornball scripts, it's hard not to laugh at some of the outfits and characterizations. This review isn't intended for true fans of Elvis, as you undoubtedly love seeing your idol in most anything, especially singing and dancing as he does throughout most of this film. For the rest, here's a synopsis of the plot:
Elvis plays Ross, a fisherman who love the boating life but must come to terms with losing the lifestyle when his boss is going to sell the biz and retire to Arizona. Wanting to buy his favorite vessel from the boss, Ross does some singing and dancing to try to make extra cash, and in the process meets and dates a newcomer to the area, while a rival buys out the business.
This is undoubtedly a strange vehicle for Presley plot-wise, but there isn't a lack of opportunities for the King to sing and dance despite the oceanic surroundings. It seems that anything is liable to cause Elvis to do his bit, singing songs ranging from girls (of course), thin walls, a big fishing haul, and even a song about shrimp. Amid the bizarre soundtrack, he does manage to belt out a classic, "Return to Sender", but the rest of the songs are probably only know to the most loyal fans.
Ok, now let's just cut right down to it. Sorry Elvis fans, but GIRLS! GIRLS! GIRLS! is a bad film. However, it is entertaining because it is so bad. If it weren't for the corny story and the campy outfits, and if this had starred almost anyone else, perhaps it would have been unwatchable. Yet, because of Elvis' image and persona, watching him sing at the drop of a hat, seeing the large upturned collars get larger, and the stereotypical portrayals of the Asian population of the vicinity makes this movie humorous in a way that probably wasn't intended, but still fun all the same.
GIRLS! GIRLS! GIRLS! is recommended for two complete opposite types of people. The people who love Elvis, and those who laugh at him. It's hard to say who would enjoy this film more.
Qwipster's rating