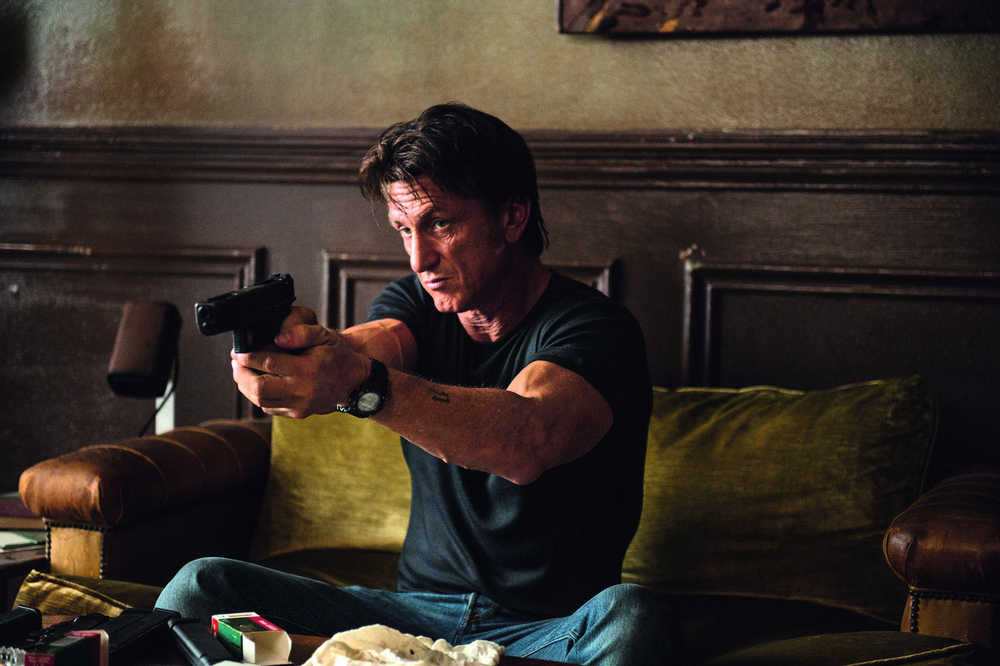 The Gunman starts off in the Democratic Republic of Congo in 2006, where crime and corruption rule the African streets, while corporations and relief aid workers have their own special interests among the people, and especially, the minerals mined from the earth. Sean Penn (The Secret Life of Walter Mitty, Gangster Squad) stars as Jim Terrier, one of several security-company mercenaries hired to protect a non-profit humanitarian operation that provides medical care to the locals there. Jim's loving girlfriend Annie (Trinca, The Son's Room) is a worker in the clinic, but he leaves her behind after he must flee the country due to his participation in covert mission that results in an assassination of a local politician. Years later, someone wants Terrier dead. To survive, he's going to have to get to the bottom of it before someone gets to him -- for good.
Taken director helms another slick revenge-actioner with a venerable middle-aged star, who has obviously worked out for the role, given how often he removes his short to reveal his sculpted body (looking in peak form at the age of 54). Penn not only stars and produces, but he also co-scripts, adapting a 1981 novel by Jean-Patrick Manchette called, in English translation, "The Prone Gunman". It's uncertain how much of this script is Penn, but given that its secondary agenda to spotlight humanitarian missions in Africa -- something Penn has spent a good deal of his own effort to promote -- it's probably a safe guess this comes from his input.
Most of the run time involves watching Jim trying to uncover the plot to murder him, as well as few of the others involved in the assassination. We're not privy to most of the details until late in the film, but given Morel's propensity for action first, the hows and whys aren't of particular importance. It is a bit confusing, and perhaps for the best that the movie doesn't hinge so much on plot as it does on thrills, but those who do choose to try to get into the actual story may end up with a headache that rivals that of Jim's post-traumatic concussions that find him losing consciousness from time to time. More confusing, perhaps, is whether we really should root for a man who had been an assassin for hire, and whether we feel he deserves the woman he ditched for the sake of a payday way back when. I guess because he feels guilty about doing both, and would later become a humanitarian, we're supposed to sympathize, but really, he's mostly the hero because he's the lesser of the film's several evil doers.
The Gunman has a nice cast, though none of them are in the film as much as you'd suspect or would like, especially barely-there Idris Elba (No Good Deed), who plays an Interpol agent who introduces himself with the initials, "JB", perhaps a nod to the long-standing rumors that he could take the James Bond mantle post-Craig. Javier Bardem (Automata), Ray Winstone (Noah) and Mark Rylance (The Other Boleyn Girl) are mostly cast to bring ambiguity to just who among them is really the bad guy, if not all three. Italian actress Jasmine Trinca gets to be there as the prize girl who needs to be saved at all costs by Jim, though it is a bit odd when, during a house siege that finds them trying to run around stealthily while gun-toting baddies shoot a barrage of rounds in their direction, the former special ops soldier snakes a bullet-proof vest that he puts on himself, rather than the girl in tow. Chivalry, you truly are dead.
While I would like to whole-heartedly recommend The Gunman to action-thriller fans, I have to hold back and claim some reservations, despite finding it consummately watchable, as the movie seems to get progressively silly in the second half as the pieces of the puzzle begin to come together. It finally jumps the shark with the introduction of a video-recording done from a cell phone recorded nearly a decade prior, followed by a laughable climax involving a bullfighting arena that actually involves a bull in the showdown, even though the sport has been banned in the city of Barcelona for several years (yes, the end contains a lot of bull!)