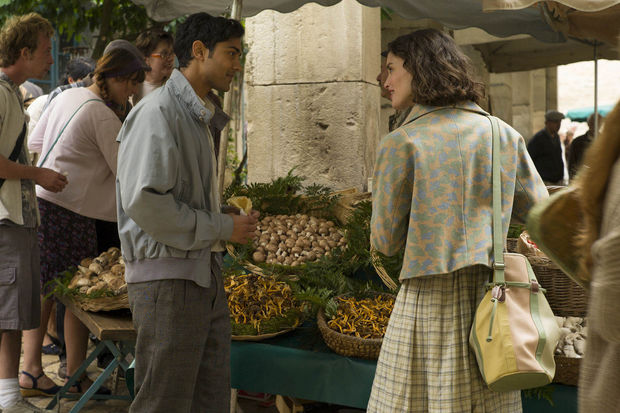 With food films all the rage (not to mention TV shows), it seems a fitting time to adapt Richard C. Morais's novel from 2010, The Hundred-Foot Journey, to the big screen, thanks to the help of executive producers Oprah Winfrey and Steven Spielberg. Directed by Lasse Hallstrom (Salmon Fishing in the Yemen, Casanova), who trod some similar food-tinged French romance in the Oscar-nominated Chocolat, and scripted by Steven Knight (Locke, Closed Circuit), it's a sumptuously presented, old-fashioned feel-good film, not too dissimilar to the kind of Miramax films Hallstrom and company would regularly churn out in its heyday.
The Kadams are a family who have gotten out of their native India during a time of political unrest that saw their restaurant burn to the ground and their beloved matriarch lose her life. On their travels through Europe, they make their way to France, where they decide to settled down in a quaint village and set up a new restaurant that would introduce Indian cuisine to many who've never experienced it. The downside? Their new eatery is directly across the street from the most prestigious restaurant within 50 miles, a Michelin-star winning establishment so popular that even the President of France stops in from time to time. Unfortunately, Madame Mallory (Mirren, RED 2) the French restaurant's widowed owner, won't tolerate the competition, and is willing to undermine her new neighbors, to the point where the Indian family's patriarch, Papa (Puri, Charlie Wilson's War) is willing to play in the same mud of intimidation, if that's what it takes to survive.
While the story of the immigrant family and the somewhat intolerant climate to outsiders might suggest a serious political film, Hallstrom's treatment is rather benign, and accentuates more in terms of positive relations and the ability to overcome ones prejudices instead of dwelling in the ugliness of racism and chauvinism. Really, where the strength of The Hundred-Foot Journey lies is not in its message, but rather in its geniality, where we can enjoy the delectable sights of exotic French and Indian cuisine, while taking in the beauty of France's countryside in all of its lush splendor.
The food and scenery aren't the only visual appealing aspects, as we're treated to two would-be lovers from different side of the street, literally, in the gifted chef and eldest boy Hassan (The Sorcerer's Apprentice) and the French sous-chef with aspirations of being the top chef in the restaurant, Marguerite (Le Bon, Mood Indigo). Both actors are handsome, charismatic, and actually manage to spark some chemistry together, even if their characters spend a good deal of the time grappling with their own jealousy and competitive natures.
As lovely as these two are to watch, they still take a backseat to the real stars of the film, the playful Helen Mirren and the charismatic Om Puri, who command the screen whenever they appear. Puri in particular is so solid in his sometimes genial, sometimes snappish performance, it's impossible to imagine an actor who would be more aptly suited to the role. While the same can't be said for Mirren, whose character could have been played more convincingly by a host of fine French actresses, she is very likeable in the role, speaking all of her lines in English with a regality and refined quality that has been her bread and butter for many a year.
Some aspects don't quite work or make sense, such as why everyone, whether in the very close Indian family or in the French villa, speaks to one another in English at nearly all times. I suppose it's to maintain its appeal to American and other English-speaking audiences, who eschew to a large degree anything with subtitles, but it does increase the suspicion that the entire confection is crafted for mass audiences at the cost of any form of artistic integrity that may have been implied in the Morais novel. The film does veer off of the beaten path in the final third, in which we see Hassan venture out to make a name for himself in what is perhaps the story's one true misstep to go for actual artistic relevance. In a light-as-a-feather film pushing past 2 hours, a prolonged Faustian metaphor just doesn't feel earned, and it's far too late in the storyline to shift tonal gears.
Nevertheless, the film is still largely enjoyable for audiences looking for a middle-of-the-road charming drama with good performances. The Hundred-Foot Journey, while featuring a plethora of delightfully prepared foods on display, is itself a traditional meal served in a way that strives for broad appeal. As such, it has an amiability that will make it go down easy for nearly all audiences who aren't expecting lots of experimental filmmaking techniques, unpredictable plotting, edgy political complications, or to experience any real emotions other than a pleasant time. It's not fine dining, but it's a safe and standard choice, full of likeable actors displaying ample charisma, served well by Hallstrom, who continues to show why he's the best at crafting beautifully shot, warmly colored, and handsomely framed dramas to please most cinematic palates.