MPAA rated: PG-13 for suggestive and sexual material, violence and thematic elements
Length: 157 min.
Cast: Hugh Jackman, Russell Crowe, Anne Hathaway, Amanda Seyfried, Sacha Baron Cohen, Helena Bonham Carter, Eddie Redmayne, Aaron Tveit, Samantha Barks, Daniel Huttlestone, Isabelle Allen
Director: Tom Hooper
Screenplay: William Nicholson (based on the play by Claude-Michel Schonberg & Alain Boublil, with lyrics by Herbert Kretzmer, and the book by Victor Hugo)
Review published January 17, 2013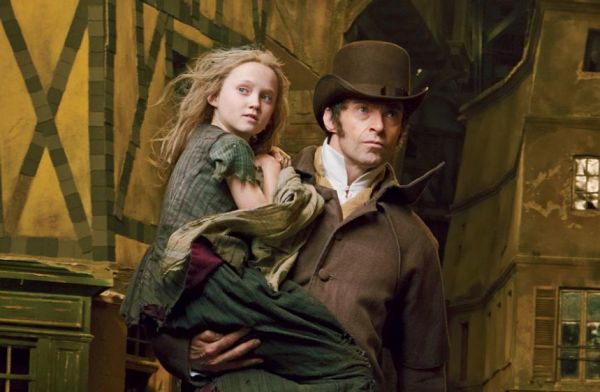 Hugh Jackman (
Happy Feet, Flushed Away
) stars as Jean Valjean, a prisoner doing hard time for stealing a loaf of bread to feed members of his family, while under the hard scrutiny of tenacious prison guard (later police inspector) Javert (Crowe,
Robin Hood
). Valjean is released, but his ex-convict status makes finding a job nearly impossible, leaving him little option but to resort to stealing again. When he is nabbed from stealing from a church, the priest benevolently claims those items were freely given, but with a request that he use the money gained to do good again, which Valjean does by becoming a legitimate factory owner (under an assumed new identity) and mayor of a small town. One of his employees, a young woman named Fantine (Hathaway,
The Dark Knight Rises
), is unceremoniously forced out on the street, whereby she becomes a prostitute to earn enough money to give to her dear daughter Cosette (Seyfried,
In Time
), who had been taken away to a boarding house Valjean feels responsible when Fantine dies tragically, adopting Cosette as his own, but the ever-vigilant Javert is out to nab him for parole violation before he can find a way to live freely.
Les Miserables
is an operatic adaptation of the wildly popular 1980 stage musical that played on Broadway and in London's West End for years, based on the great 1862 Victor Hugo masterwork of the same name. Tom Hooper (
The King's Speech, The Damned United
) supplies the direction, opting for a different approach to his musical, whereby the actors sing their parts live while they act, rather than perform to pre-recorded tracks. The technique works mostly due to the fact that the singers do not engage in dance numbers while they croon, so they do have the adequate vocal control for a controlled performance. Unlike the stage musical, Hooper also delves to frame the faces of his performers (partially due to the aforementioned live singing), so that they can act with the pain or joy on their faces for us all to see. This makes certain moments, such as Fantine's anguished number, "I Dreamed a Dream", especially powerful, as we can read every bit of pain in Hathaway's expression, see the tears roll down her cheeks, and hear her breathing and whispering as she tells of her broken life.
On the down side, as there are no dance numbers, and many scenes show little but an actors face as he or she sings, this can make for a bit of a boring experience for those who aren't moved by the actual songs themselves. However, if you detest musicals, it is probably not likely you will indulge much in a film like
Les Miserables
, or you will enjoy the film for its acting, independent of the fact that the actors sing their soliloquys. very strong vocal performances are the highlight, in particular Hathaway, Jackman, and Samantha Barks, who plays the role in the London production, as Eponine, a woman also in love with Cosette's later love interest, a revolutionary named Marius (Redmayne,
The Other Boleyn Girl
). The casting of Russell Crowe has been severely criticized, as he isn't a classically trained singer, and admittedly, he is vastly outshined in the vocals department, especially in a duet in which Javert confronts Valjean and they must alternate lines. However, he does give a respectable effort with what little he has to work with, and his screen presence and acting ability are strong enough to cover the deficit of his singing numbers sufficiently that it does not break the film.
My take: whenever Jackman is on the screen, particularly when he is dealing with Javert, the film is alive, filled with dramatic tension and interest. When he's not, it's spotty at best, as we watch a collection of scenes and characters that feel like a mixed bag of elements that don't particularly jibe with one another. A good deal of screen time goes to the comic relief players, the Thenardiers, played by Sasha Baron Cohen (
The Dictator, Bruno
) and Helena Bonham Carter (
Dark Shadows, Deathly Hallows Part 2
), who are the thieving innkeepers who are also caretakers of Cosette, and while the performances are comical, their storyline hardly feels as if it merits so much time to include. Same goes for the dreamy love triangle in the film's final third between Cosette, Marius and Eponine, which feels like should be its own separate film.
Eponine's solo song is beautifully sung, but all the while audiences will wonder why we should care so much about about the unrequited love she has for Marius when life and death hangs in the balance for the other important characters, and a revolution is underfoot for the city. The Paris Rebellion of 1832 certainly gives the film an epic scope, but the musical falls short of giving these scenes the proper background and narrative weight necessary for what had been largely a personal story of redemption. Of course, it would be hard to cut these things since they are featured so prominently in the stage play, and, of course, the plays staunchest fans would be in an uproar if the nearly three-hour runtime were reduced to save the strength of the main story arc of Valjean, though it should be said that not every number made the final cut anyway.
The real highlights, other than the individual singing performances, comes through the set and art design, as well as the cinematic, CGI-infused landscape shots. However, the film is torn between wanting to be a small-scale story or a full-blown epic, and ends up at odds with itself. As a result, there are occasional extended lulls, depending on which of the two sides you tend to prefer, as you wait for the next step int he story that takes minutes in coming. Again, lovers of the music and the play will love it, but those just wanting a good, ripping yarn will find it a bit of a slog at times. However, it is, after all, an adaptation of a stage play, and given the confines of capturing the play in as much as can be done as a film, and still give it a cinematic appeal,
Les Miserables
will deliver many things to admire.