MPAA rated: PG-13 for scenes of violence, carnage, and brief strong language
Length: 150 min.
Cast: Daniel Day-Lewis, David Strathairn, Sally Field, Tommy Lee Jones, Joseph Gordon-Levitt, James Spader, Hal Holbrook, John Hawkes, Jackie Earle Haley, Bruce McGill, Tim Blake Nelson, Joseph Cross, Jared Harris, Lee Pace, Peter McRobbie, Gulliver McGrath, Jeremy Strong, Michael Stuhlbarg
Small role: Lukas Haas, Kevin Kline
Director: Steven Spielberg
Screenplay: Tony Kushner (based on part of the book, "Team of Rivals: The Political Genius of Abraham Lincoln", by Doris Kearns Goodwin)
Review published December 27, 2012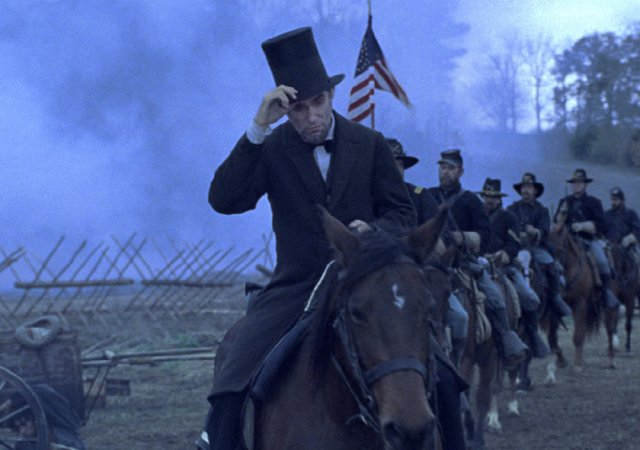 Many years in the making, director Steven Spielberg's (
War Horse, Kingdom of the Crystal Skull
) opus on one of America's most beloved presidents finally sees the light of the silver screen. Pulitzer-winning scribe Tony Kushner (
Munich, Angels in America
) provides the screenplay, based on what ends up being just a portion of historian Doris Kearns Goodwin's highly respected book about the presidency of Abraham Lincoln, "Team of Rivals". The one-word title and running length would suggest a biographical epic, but instead, it's an intricate portrayal of how a man affected great change amid difficult circumstances within the arena of power during an important portion of not only his life, but the nation as a whole.
The film focuses on Lincoln's accomplishments near the end of his life in 1865, particularly in how he was able to use his craft at negotiations and manipulation in order to pass the highly controversial Thirteenth Amendment to the Constitution, calling for the abolition of slavery, through a largely divided and unwieldy House of Representatives. All the while Lincoln is trying to push this through, he is also working diligently to put an end to the bloody Civil War that had been going on for nearly 4 years already. At this point in the war, it looked like the South, who were fighting for, among other things, a continuance of the use of slaves, were on the verge of losing, perhaps making the Amendment a moot issue. However, Lincoln saw this as two separate things, and amending the constitution would be the only sure way to not have to revisit the subject he knew would turn up again.
Much of the film concerns the wrangling of the congressmen in the House of Representatives to their way of thinking, including requests for bribery, a little bit of shading of the facts, and some good, old-fashioned twisting of arms. Some viewers may find the 19th Century dialogue a bit elevated and not easily understood at first, but eventually, the consistent manner begins to sink in, and one can appreciate the eloquence of the words, particularly as they emerge from Lincoln, with Daniel Day-Lewis (
Nine, There Will Be Blood
) always looking like he's finding the right gravitas to impress on his fellow listeners whenever he speaks. Many will be surprised to find how raucous the congress had been in its time, especially as contrasted with the overemphasis on decorum today (Joe Wilson's, "You lie!" outburst to Obama notwithstanding), with insults hurled at one another quite liberally, but with great panache.
Day-Lewis continues to show why he is one of the greatest, if not the greatest, actor of his generation. As he has with nearly every other role in recent memory, he transforms himself, not only physically, but his speech pattern as well, so acute you'd swear he must have spoken this way all of his life. Day-Lewis's Lincoln isn't stiff and commanding, but rather withdrawn and contemplative, but very engaging once he gets around to speaking, and quite strong in character when he's looking to get his way in a conversation, or when he's spinning one of his many yarns.
The rest of the supporting cast is nearly as top-notch, with particularly strong performances by Sally Field (
The Amazing Spider-Man, Legally Blonde 2
) as Abraham's more impulsive and emotional wife, Mary Todd Lincoln, and Tommy Lee Jones (
Men in Black 3, No Country for Old Men
) as a congressman, Thaddeus Stevens, who gets his chance to shine for a cause he has spent the good part of three decades to see come to life as the law of the land. Lee Pace (
The Resident, Miss Pettigrew Lives for a Day
) also impresses in a hiss-worthy performance as Fernando Wood, the Democratic leader heading the opposition to the Amendment. And James Spader (
Secretary, The Watcher
) gives a great character performance, the closest the film has to a comic relief role, as lobbyist W.N. Bilbo, one of Lincoln's dodgiest Democratic allies.
Although the cinematography by Janusz Kaminski (
War of the Worlds
,
The Terminal
)
is superb, as is the use of locales outdoors, and stunning, naturally lit sets indoors, there is a stagy quality to the way each scene is mounted that is likely due to Kushner's background as a playwright. While the dialogue is still of the highest quality, it is quite a verbose piece, and will likely not be to everyone's liking that the characters talk at length with little respite between scenes.
Lincoln
is told as if from a distance, rarely an intimate portrayal where you feel like you've come to know the man, but you do come to appreciate him as a politician. Spielberg's frames the film small much of the time, making you feel like you're there in the room with the players, which in itself is a success. And yet, we're rarely privy to what is actually ticking inside the mind in this very complicated portrayal of a man. Lincoln isn't shows as pious and impervious, but just a man, who became a great man in history. It is the fact that he's fallible and imperfect, as shown in this fine film, that makes what he has done so extraordinary, and the effects of his boldness of vision last to this day and beyond.