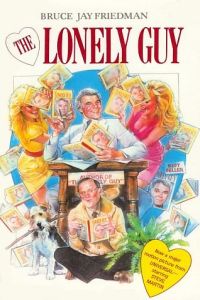 Adapted from Bruce Jay Friedman's guide to help lonely men cope with their miserable existence with a sense of humor, The Lonely Guy is a sometimes uneven mixture of romance, screwball comedy, and self-help satire. Longtime television writers Daniels and Weinberger (creators of TV's "Taxi") keep the gags coming at regular intervals, with witty playwright Neil Simon (The Odd Couple, Murder by Death) called in to give the humor some additional zing. With so many different visions already, the film must then wrap itself around comedian Steve Martin's (The Spanish Prisoner, Bowfinger) brand of wild and crazy humor, and the result is a sporadic mix of many different styles of humor that doesn't always work, but at the same time, has something for almost everyone.

Martin stars as Larry Hubbard, a writer so scared of loneliness that he looks the other way when his girlfriend (Douglass, Breaking Away) cheats on him right in front of his eyes. Eventually they do part, though, and Larry has to make a life of his own, without anyone to share it with. He soon befriends another lonely guy named Warren (Grodin, Heaven Can Wait), who shows him that he's not alone, and introduces him to the ways lonely guys like himself can cope with their loneliness. All of this leads to Larry coming up with a self-help book on "Lonely Guys", to help lonely men in their time of need. However, will Larry find love and not be lonely anymore?

It works just as much as it doesn't, so one's mileage will certainly vary with the hit-and-miss material. Martin is always fun to watch, in one of the first roles where he shows a softer, deeper side to his comical nature that would eventually lead him to doing more romantic comedies and family fare. Despite the talented screenwriters, most of the funnier material comes from the ad-libbed scenes between Martin and comedic actor Charles Grodin, who is ingratiating enough to allow himself to be filmed with grey hair and sans toupee. Grodin probably would have been a better fit as the star of the film, but Martin was clearly a much bigger box office draw at the time, although the film ultimately did poorly at the box office anyway.

Veteran director Arthur Hiller (Silver Streak, Love Story) experiments with the many different styles of comedy, and ti his credit, he gets it mostly right. Still, the varied nature of the material does make it a bit bizarre at times, as the straightforward story is sometimes broken up by tongue-in-cheek narration and Steve Martin speaking directly to the camera to offer up friendly advice, such as to apply fake sweat to oneself to make it appear like one has gotten a great workout in.

The Lonely Guy won't be regarded as the best Steve Martin film by a long shot, but some of the bits are definitely funny enough to make this a worthwhile viewing for those looking for a few good yuks and a pleasant ninety minutes of sillin

ess.