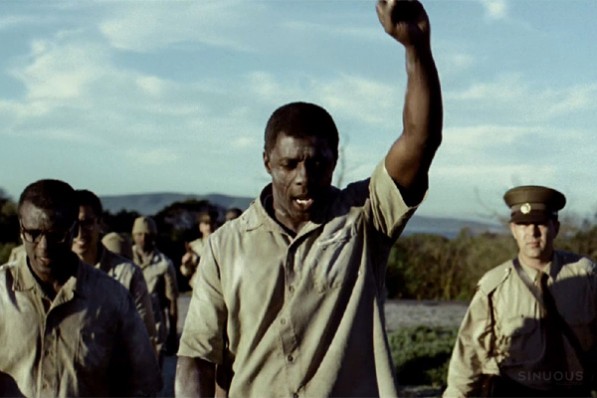 Nelson Mandela's 1995 autobiographical account provides the basis for this biopic adaptation about his political life, at least as it existed up through the time of its writing. Unless you've lived in a bomb shelter for the past few decades, you've no doubt heard of the name of the world renown South African leader who was in large part responsible for leading the country through the rampant segregation and discrimination of apartheid and into a free South Africa for black Africans.
Justin Chadwick (The Other Boleyn Girl, The First Grader) directs Mandela: Long Walk to Freedom, which details Nelson Mandela's (Elba, Pacific Rim) fight for freedom for all of the people of South Africa, which is something that, ironically, would cost him his own freedom through a life sentence for conspiratorial acts of sabotage he committed for the cause. Since Mandela's imprisonment, release, and his ascendancy to become the president of South Africa are well known, there's little to the film from a plot standpoint that will likely come as a surprise, and it isn't necessarily insightful to anyone who already knows the basics of his life story. Mostly, this is a dramatization of a collection of events in Nelson Mandela's life, from his time as a young lawyer and ladies' man, to his failed marriage, to his pursuit of power in the African National Congress, to his long relationship with the woman who would become Winnie Mandela (Harris, Skyfall), to his life in prison, and ultimately to the makings of the democracy in South Africa that would elect him and ultimately end the oppressive reign of apartheid in the tumultuous nation.
At two hours and twenty minutes long, Mandela is a film that is both too short and too long. It's short in that it tries to encapsulate a lifetime that is chock full of eventful moments, and instead of letting the breadth, depth, and poignancy of many of them sink in, we're given but a collection of events that are scant in helpful details, and leave little breathing room before we're whisked to another in a lengthy series of them. It's long in that, as the film doesn't sufficiently stick to the central theme of Mandela's fight for freedom, the scenes of his love life and his relationship with his children feel like they don't add much to the potency of the reason why Mandela is an important historical figure, and probably should have been excised. Without the necessary time for a full biography, and without the focus on shoring up the film's most potent thematic material, Long Walk to Freedom feels disappointing, despite a good cast of actors and excellent production values.
Despite its narrative flaws, Mandela: Long Walk to Freedom is worth watching for a charismatic performance by Idris Elba in the lead role, even if he doesn't closely resemble Mandela physically and his attempt to impersonate his mannered voice seems unnatural to his own persona. There is also a fine supporting performance by Naomie Harris as the progressively fierce Winnie Mandela, whose story arc is just as fascinating, though it does become less inspirational over time. The film doesn't always paint a flattering portrait of both of these well-respected figures, and some of their actions are largely seen as deplorable (the PG-13 rating keeps most of the horrific acts they perform left to the imagination). The ageing process applied through makeup is a bit of a liability due to its obvious artifice, and while Nelson ages quite a bit before our eyes, Winnie hardly looks any older despite four decades of span for her character on the screen.
Even if it is a mixed bag in some departments, Mandela's story, greatly simplified and abbreviated as it is here, still compels, which is enough to properly Long Walk to Freedom to worthwhile viewing for those not expecting Best Picture-caliber entertainment from their biopics. However, for the real, unabridged story, reading Mandela's award-winning memoir is probably the wiser choice to learn about this complex and inspirational leader.