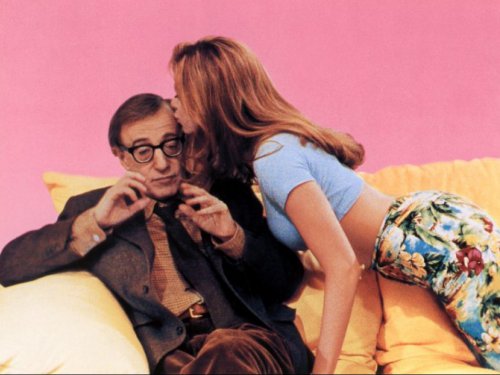 Another winning comedy from Woody Allen (Bullets Over Broadway, Manhattan Murder Mystery), and although he has covered much of this same ground before, the writing and characters still make everything seem fresh and vibrant. Once again, Allen draws from real-life experiences, here imagining what it would be like if he found out that he had adopted a child and found that the the boy's mother was not the kind of person he thought she would be. This interesting premise is told as a Greek tragedy, literally, complete with chorus and many classical references throughout. Having a degree in Classics, it probably tickled my funny bone more than most.
Woody plays a sportswriter named Lenny, whose wide Amanda (Carter, Fight Club) has been hounding him recently to have a child. Lenny scoffs, but Amanda makes a decision to adopt a baby boy, and once he has it in his arms, he changes his tune. They name the child Max, and a few years later, Lenny decides to find out about the parents of this boy that he sees as very gifted. Through some snooping, he is shocked to learn that his little boy's mother is Linda Ash (Sorvino, Romy & Michelle), aka Judy Cum, a porn actress and prostitute, and shows none of the intelligence Max has. Not wanting his adopted child to find his natural mother in such a profession should he seek out his birth parents, Lenny sets about trying to rehabilitate this woman who doesn't really have the skills to do much else.
Mira Sorvino would score an Oscar for her supporting role as the ditzy prostitute, causing one to believe that the Academy Award voters were too bored or busy to watch the performances of the other four candidates. But then, in a category that would see a bad actress like Jennifer Tilly get a nomination, while Marisa Tomei also won for a similar one-note performance, it's not entirely surprising. Still, she is fun to watch, and quite funny, with an underlying sweetness that makes you like her despite the shrillness of her vocals.
Mighty Aphrodite is a must-see for Allen fans, but also makes for good entertainment for those who don't typically enjoy his movies. It contains one of his funnier performances, and as a director, he follows good comedic impulses to inject elements not seen before in a film, blending classic tragedy while never losing the breezy atmosphere or tone. It's strictly a dessert film, but still extremely satisfying
.