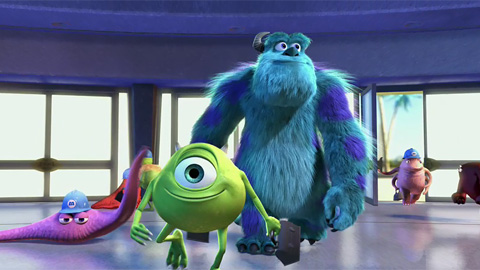 Pixar is an animation studio that seemingly can do no wrong, with such excellent bits of entertainment as the TOY STORY series as well as A BUG'S LIFE to their credit. It should come as no surprise that they have made another winner with their latest effort, MONSTERS INC., a film that is both astonishing to the eye as well as full of heart, with entertainment to be had no matter what your age.
In a world full of monsters, Monsters Inc. is a company that is in charge of extracting energy created through the screams of young children to use for electricity. The company's very best scream extractor is a large, furry monster named James P. Sullivan (aka Sulley), who makes things quite difficult in their world when he accidentally lets a young girl sneak through, which is not good since children are seen as disease-ridden beasts who potentially can contaminate their world. The young girl and Sulley soon form an emotional bond, but the other monsters don't seem to understand that children should not be feared and want to get rid of her at all costs.
Obviously the most striking feature of MONSTERS INC. is it's heavily detailed computer animation, which may be unrivaled in terms of quality in any film to date. One quickly forgets that the film is animated, and it is easy to get caught up in the overall story as it's quite a unique and in many cases funny ride right up to the very end. The voice acting is perfectly used, as is the excellent use of music and delivery of exciting action towards the climax of the film. The amount of detail involved in the animation is impressive, with very realistic fur and scales on the characters. It is a real treat for the eyes.
MONSTERS INC. is one of the best movies of the year, an impossible film to dislike. It will appeal to the youngest and oldest of viewers and all in between. Gorgeously rendered, funny, exciting and completely entertaining, it gets a very strong recommendation for solid family entertainment.
Qwipster's rating: