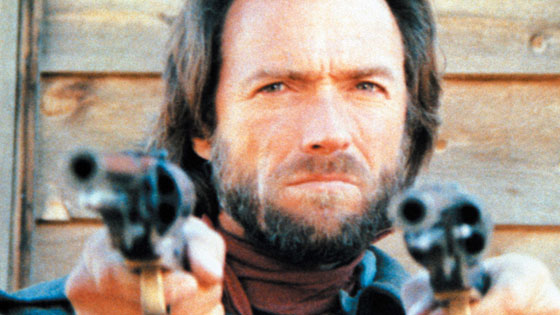 The Outlaw Josey Wales is set shortly after the Civil War, with Clint (The Eiger Sanction, Magnum Force) playing a peaceful farmer named Josey Wales has his house burned and family ruthlessly murdered by some Union soldiers. Vowing revenge, he hones his marksmanship and joins a band of Southern guerrilla fighters who refuse to surrender to the North. They are offered a chance to surrender and go free, but Josie holds out, becoming an outlaw. This doesn't sit well with the Union soldiers, and they set out to capture Josey at any cost.
The Outlaw Josey Wales is another notable Western directed by and starring Clint Eastwood, one of four he has directed himself in. With each one a classic in the genre, Clint has shown a mastery of Westerns that makes him one of the great auteurs in the subject. With The Outlaw Josey Wales, Clint maintains a presence behind the camera that is on par to his performance in front of it, with little in the way of frills yet undeniable strength throughout.
The Outlaw Josey Wales is a terrific Western, which masterfully combines shocking brutality while also maintaining some subtly hilarious touches of humor. Clint surrounds himself with an equally entertaining supporting cast that provide some of the film's most memorable moments. If there is any gripe at all about Eastwood as a director it is his tendency to let films run on too long and weakening the pace and tension, and unfortunately The Outlaw Josey Wales is another example. Yet, the entertainment is still strongly delivered, making Outlaw must-see for fans of Eastwood or just modern-day Westerns in general.