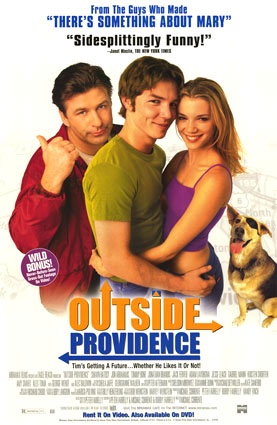 Those expecting the typical gross-out Farrelly brothers (Dumb and Dumber, There's Something About Mary) fare may be a bit mystified by this one. To those like me who can't stand those films simply because they are little more than juvenile sick-fests, Outside Provdence will be seen as a welcome departure.
The film takes place in Pawtucket, Connecticut in 1974, and follows Tim Dunphy (Hatosy, The Faculty), a stoner low-class loser who ends up being sent to a preppie academy after getting into too much trouble at home. While there he spends most of his time trying to avoid getting into trouble, and when he meets a girl with her head on straight (Smart, Road Trip), he starts to learn that there's more to life than the next buzz.
Those looking for a comedy may think there isn't enough laughs, but Outside Providence has a lot of heart that shines through the obvious and lame humor that the Farrelly's put in. In fact the main reason I can't say this film was great is exactly because of the humor that they do try to inject into it. Three-legged dogs, throwing newspapers from a wheelchair at 35 mph, and smoking bongs aren't enough to provide entertainment, and in fact just get in the way of the story here.
I suppose providing just enough "hilarity" to fill up a movie trailer makes for great marketing, but mucking up what otherwise might have been a decent story with ridiculously unfunny visual oddities was a bad move. Somewhere under all the shenanigans, a good movie exists and Outside Providence gives us just enough glimpses to make this a worthwhile watch, but nothing more.