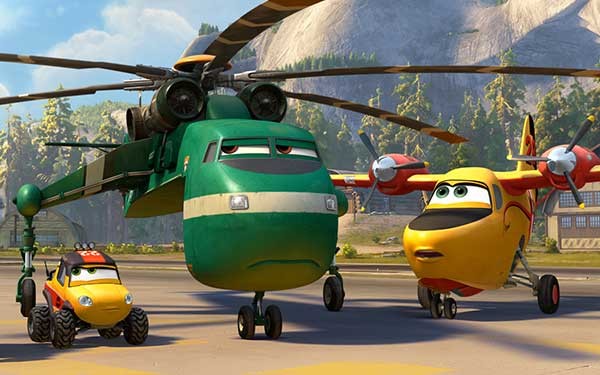 Truth be told, at the time of this writing, I have only seen about a third of the original Planes from 2013, a Disney theatrical release originally intended as a straight-to-video non-Pixar continuation of the Cars spirit of anthropomorphic vehicle stories. I missed it in its theatrical run, and found myself fading out after about 30 minutes, stopping it to pick up again later, but disinterest got the better of me, and I never did revisit it. I had intention to skip this follow-up as well, but I ended up seeing it on a fluke chance, and given that the only real correlation between the two movies is the main character, I figured I could just pick it up without needing to complete the experience of its predecessor. I was right, so here is the review.
That main character is Dusty Crophopper (Voiced by Dane Cook, Dan in Real Life), a former dust cropper airplane who turned himself into a champion in high-speed races between a variety of other airplanes. However, due to a faulty gearbox that is no longer in production, Dusty finds he must give up the racing life, only to stumble into another line of work at a distant National Park when he seeks a certification in 'fire & rescue' in order to save his airport from being shut down for inadequate safety standards, which would severely hurt the industry of the nearby town.
I'm not the intended audience for Planes: Fire & Rescue, so take this review with a grain of salt, as there's a decent chance your young child will enjoy watching these colorful characters and not care how it has been critically perceived. The problem with this film isn't that it doesn't hold the attention of its target audience so much as it doesn't really try to do much else other than to continue to present new characters in order to sell as toys and merchandise to them. Despite a lack of noble intentions, at least Disney put some effort into it by tossing in a few side jokes aimed toward adults, and spiffed up the effects to theater-worthy levels we would expect for a major summer release.
The computer-generated animation, especially in its depiction of fires and the dropping of water and fire retardant to put said fires out, is pretty good this time out; it's not Pixar quality, but it's above standard. The same goes for the celebrity voice work, with Julie Bowen (Horrible Bosses) as the particular standout in the role of the amorous air tanker, Lil' Dipper. Wes Studi's (A Million Ways to Die in the West) distinct presence might also propel his voice-acting career as the droll but wise Windlifter. It's the writing that is left lacking, especially in the main plot, which feels mostly uninspired and without much of a rooting interest in seeing our hero prevail against trying circumstances. There are a few visual and aural cues that makes for some interesting moments, including good use of the AC/DC track, "Thunderstruck", or a scene that hearkens back to the 1970s TV show, "CHiPs" (including bringing show star Erik Estrada (Loaded Weapon 1) in for voice work), but those moments merely stand out because the main story feels so consummately routine in most other details.
Kids will probably like it, and it doesn't grossly overstay its welcome too much for restless adults at only 83 minutes, so it will likely be considered passable for most who might have an interest. Still, it's a bit of a tall order to expect families to shell out movie-theater dollars for such material barely a step above generic and forgettable, especially for a formula we're experiencing for the fourth time around, so without bringing more to the proceedings worth loading up the minivan for. Unless you just have to go to the movies for a night out with the kids, it's probably better to catch this one at the bargain theater, or better yet, wait for its initially intended release on home video.