Cast: Doris Day, David Niven, Richard Haydn, Janis Paige, Spring Byington, Patsy Kelly, Jack Weston, Stanley Livingston, Charles Herbert, Flip Mark, Baby Gellert
Director: Charles Walters
Screenplay: Isobel Lennart (based on the book by Jean Kerr)
Review published December 28, 2012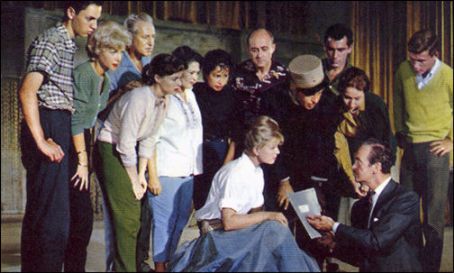 A 1960 family comedy that is quite entertaining for fans of Doris Day (
The Man Who Knew Too Much, That Touch of Mink
), made at the peak of her popularity. It plays as one long sitcom, though it is amusing enough that it hasn't been spread too thin.
Doris Day and David Niven (
The Pink Panther, The Guns of Navarrone
) play Kate and Larry Mackay, a married couple living in a Manhattan apartment with four hyperactive boys. At the beginning of the film, we find Larry, a professor at Columbia University, ditching his teaching job for a newspaper gig as one of New York's most influential theater critics. Meanwhile, Kate is a housewife trying to deal with four rowdy boys and am equally rascally dog, to the point where the apartment just isn't big enough to house them all, and they decide it is much better for everyone to move 70 miles away into the country (Hooten, NY) in an enormous, but dilapidated estate. The marriage begins to have some strain when Lawrence's personality seems to change due to his newfound fame and power, though he vehemently denies this, while the fixer-upper house and its repair work begins to weigh heavily on Larry's ability to concentrate on work.
There's nothing distinctly great about
Please Don't Eat the Daisies
, but it does what it does well. Screenwriter Isobel Lennart (
Anchors Aweigh, Meet Me in Las Vegas
) does a quality job with the loose adaptation of Jean Kerr's 1957 book of anecdotal essays about her life as a mother and playwright, as well as her marriage with Pulitzer-winning New York drama critic, Walter Kerr. As the book isn't about any particular story, the film adaptation does often feel like two stories in one, one involving motherhood and the other the day-to-day events of a metropolitan critic. The stories meet halfway every so often when Kate and Lawrence must find a way for their two very different worlds to coexist. The film retains the oddly amusing title of the book, and references it when one of the young boys is found to have eaten the daisies around their country home (he wasn't told not to, he retorts).
Doris gets to sing a few numbers, including the title song, as well as yet another rendition of her Oscar-winning song from
The Man Who Knew Too Much
, "Que Sera Sera (Whatever Will Be, Will Be)", which had become her signature song by this time in her career. The pairing of Niven and Day would seem an odd one, as sophisticated Englishman and earthy Midwestern girl-next-door types aren't in abundance in Hollywood films, and while one does wonder how they ever found their way through courtship, they both handle their roles with great humor and panache.
There's not much to say about
Please Don't Eat the Daisies
except that it is light, amiable, and genuinely amusing. Not a knee-slapper, but should have many viewers in the mood for an old-fashioned family comedy smiling throughout. Perhaps it is a bit long at 112 minutes, especially as it takes half of the film to finally get to the family relocation part, and the ending does feel a bit abrupt, but by that point, enough merriment has been had. If you like Day, Niven, and fluffy family comedies, it's worth the effort to find, though you will definitely only want to see it in widescreen, as it makes full use of the Cinemascope process.
-- Became a TV series (with a different cast) in 1965.