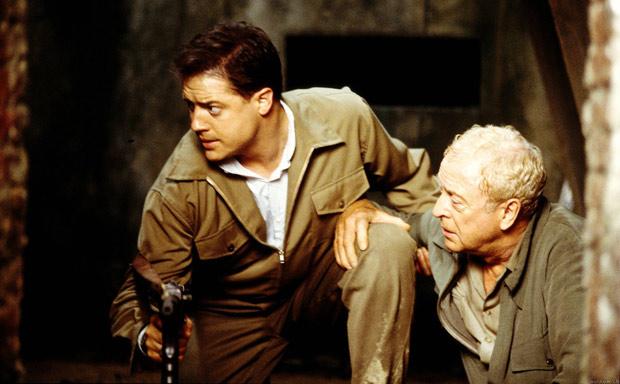 The Quiet American is based on Graham Greene's somewhat prophetic politically-tinged novel of 1955 about the French war in Vietnam which preceded the ever-escalating American one which followed shortly thereafter. It was made into a film back in 1958, but without the anti-American sentiments, and hence little of the foreboding warnings. Hindsight is 20/20, as they say, so here is another attempt at the novel that is able to capture the essence of Greene's politicisms, while also tailoring it into a bridge to take us into the events which would continue for decades in the region.
The story is set in the Vietnam of 1952, where the country is caught between the Communist forces and the French colonials. Michael Caine plays Thomas Fowler, a London Times reporter covering the scene, whose keen understanding and love of the people give him an edge for digging out the news with a knowing ear. He is trapped in a loveless marriage with a woman who won't divorce him for religious reasons, but his love for a local Vietnamese girl, Phuong, keeps him valiantly trying. Enter American Alden Pyle, a seemingly naive aid worker who also begins to take a fancy to Phuong, forming an awkward love triangle of competing loves and ideals.
Obviously, the character of Phuong serves as an apt allegory for Vietnam herself, and the dangers of trying to possess that which may not ever belong to you to begin with, and how the attempt is likely to consume you. Much of the film plays its hand in its own very subtle ways, making this a political thriller for the thinking person.
Michael Caine continues his latest string of commendable roles, slowly but surely placing him back on the map of estimable actors working today. Although Brendan Fraser seems an unlikely choice for Alden Pyle, his naivety and goofy charm actually speaks well to the mood and opinions of the American government of the times, so is quite suitable. The locale-work is impressive, and Noyce's direction of the events is compelling in its drama and gripping in its action.
THE QUIET AMERICAN is one of the better films of 2002, and very much recommended for a glimpse into the environment which caused the American involvement in Vietnam. It also shows how little we've learned as we've fallen into the same trappings time and again in trying to manipulate future governments into more sympathetic regimes, so this offers much food for thought to today's headlines. As subtle as the film may be, it is anything but quiet, because beneath the surface of the narrative, Greene's ultimate message speaks volumes.
Qwipster's rating: