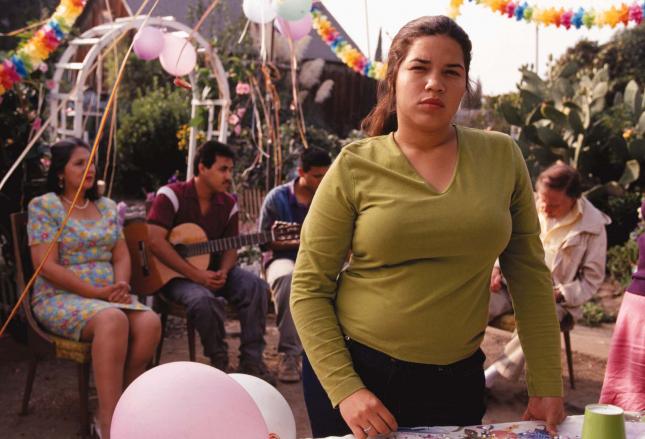 Although we've seen the struggle for individualism and personal power done many times before, particularly in independent films, Real Women Have Curves never seems to lack for freshness despite it all. Part of this comes from the excellent characterizations provided throughout the film, with many archetypical elements of Hispanic women getting together for a tug-of-war between old-fashioned values and the new independent spirit. The other major part comes from a very solid cast, with especially brilliant performances by relative newcomer America Ferrera (Lords of Dogtown, How to Train Your Dragon) and the very memorable mother played by Lupe Ontiveros (As Good As It Gets, The Goonies).
Ferrera plays Ana, the smart young girl who has been offered finds she must turn down a chance to go to college in order to support the family in a local sweat shop making fancy dresses with minimal returns to show for it. She isn't a supermodel, but she's comfortable with who she is, despite the fact that her mother frequently tells her she's fat, ugly and not good enough at almost anything she does on her own. She wants desperately to be her own woman, but struggles with having to break out from a gossipy Latino culture where the women weren't allowed to be too proud of oneself without derisive comments from the others around her. With a domineering mother, a large and looming deadline at the clothes shop, and a potential romance with a boy who maintains her beauty despite her large figure, Ana tries to keep her head above water lest she drown in her own despair.
This is based on the Josefina Lopez play of the same name, but there's nothing stagy about this film in the slightest. Director Patricia Cardoso (Lies in Plain Sight, Meddling Mom) does a very good job in drawing forth great performances from the terrific cast as well. Although the film is a bit on the preachy side in an obvious way, it's difficult not to feel good about the women coming to terms with their own bodies and feeling proud of who they are. It's a feel-good movie after all.
Real Women Have Curves should appeal to most people, but especially for those intimate with Mexican-American culture and the roles of women within it. Even if you aren't, there's no denying that the film has a charm and energy that makes for a film unlike any out there today, even if inherently cut from a familiar cloth.
Qwipster's rating: