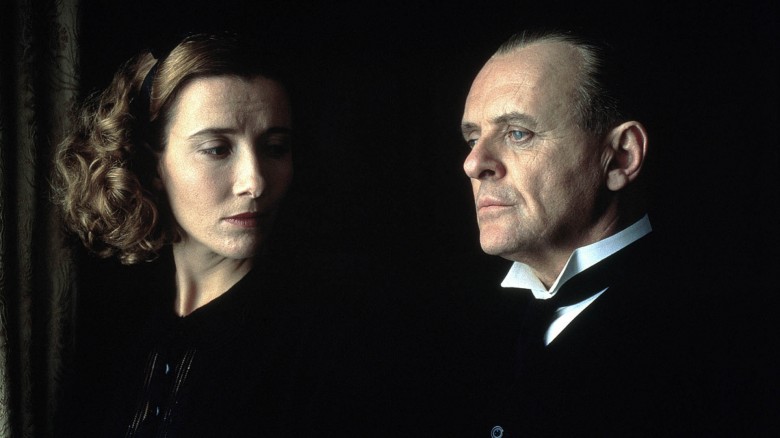 Another beautifully crafted literary adaptation from the team of Ismail Merchant and James Ivory (Howards End, A Room with a View), The Remains of the Day ranks among their very best work. Their names are already synonymous with the genre of the British "period piece", but as long as they can produce such fine films, I wouldn't want them to ever emerge from their chosen pigeonhole.
Nominated for all of the major Academy Awards (although winning none), this excellent film is based upon the award-winning novel by Kazuo Ishiguro, and like most Merchant-Ivory collaborations, the excellent screenplay is provided by Ruth Prawer Jhabvala (Le Divorce, Heat and Dust). Hopkins (The Silence of the Lambs, The Bounty) is outstanding as Mr. Stevens, the proud butler of Lord Darlington's (Fox, Patriot Games) estate, which has been known to host a variety of Britain's most important people. Most of the film is told in flashback to the years shortly before the second World War, where some important people met with German officials in order to find a peaceful solution to their troubles at any cost. Surrounding the political intrigue is the awkward relationship between the always proper Stevens and the more informal housekeeper, Miss Kenton (Thompson, Junior), who likes to speak her mind, mostly to Stevens' disapproving ear.
Mostly, it's a study of one man's self-imposed repression, but also a country still wrapped in tradition, where doing the noble thing didn't always coincide with what was the best thing. This is the time when England had to choose between gentlemanly complacency or bold interference, contenting themselves on the maintenance of a measured outward appearance, while inside the feelings are hard to keep swallowed down.
This is a superbly crafted drama through and through, with the rich cinematography you'd expect from Tony Pierce-Roberts (Mr. and Mrs. Bridge, Howards End). A mesmerizing score from Richard Robbins and outstanding costumes by Jenny Beavan (Gosford Park, Anna and the King) and John Bright (Sense and Sensibility) are sheer perfection in capturing the mood and feel of the times. This is not to mention the incredible performances by Hopkins and Thompson, or the never faltering direction by Ivory.
The Remains of the Day is a quiet film, thoughtful in every detail, subtle in every feeling. It may be a film that some find slow, but for those who enjoy intelligent films or costume dramas, you'll be hard pressed to find anything to dislike in the entire production. This is the work from people who are master craftsmen of their trade, and we reap the rewards of their expertise with another excellent creation for the ages.
Qwipster's rating: