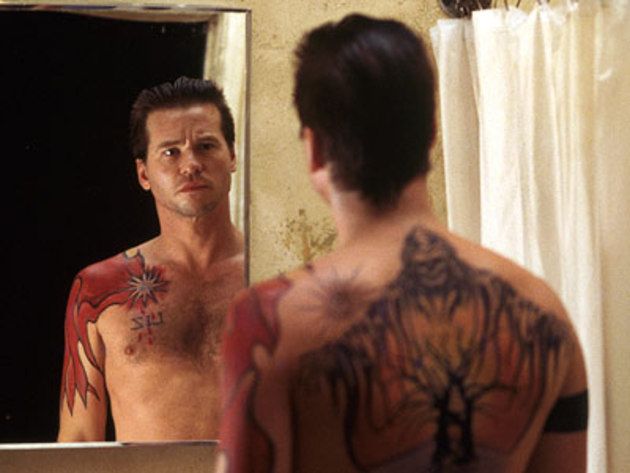 Falling into the category of "Don't hate me for recommending this movie to you" is The Salton Sea, a very dark black comedy that will probably turn off just as many viewers who find it entertaining. Directed with a terrific sense of style by longtime television show director D.J. Caruso (Taking Lives, Two for the Money), this is definitely a "walk on the wild side" that should appeal to those who like comic crime dramas like Pulp Fiction, The Boondock Saints, Fight Club, and other over-the-top funny but violent thrillers of this ilk. Screenwriter Tony Gayton, who also penned the screenplay for Murder by Numbers released the same year, writes this with a good sense of character and the wonderfully perverse, a perfect match for Caruso's visual flair.
Val Kilmer (Red Planet, THe Prince of Egypt) stars as Danny Parker, a druggie lowlife whose life is turned upside down after the needless murder of his beloved wife. His everyday life is like a bizarre odyssey involving junkies, thugs and other unsavory characters, and danger looms at almost every turn. Danny has become a favorite target for a pair of undercover narcotics agents, who use Danny's street credibility to learn how to infiltrate the drug trade's bigger fish. Things get very dangerous for Danny when he decides to fly solo to take on Pooh-Bear (D'Onofrio, The Dangerous Lives of Altar Boys), one of the most dangerous and powerful dealers in the area.
Making a film like this work requires a director savvy enough to understand how to balance brutality with comedy, and Caruso shows such adept skill that one wonders why he has spent so much time in television. The characters are played over the top, with an especially crazy performance by D'Onofrio as the nose-less Pooh-Bear, and the cast of actors all prove good for their respective roles. The script is sharp, with complex themes of love and redemption bubbling under the surface, and is highly imaginative in its situations.
The Salton Sea is definitely not recommended for everyone, as some may not like looking under rocks to see what's underneath if they are squeamish. Also, there's a lot of unrealistic plot elements and questionable behavior that requires you to suspend some disbelief to properly enjoy the film as a whole. However, if you like a wild ride and off-the-wall characters in darkly humorous situations, you may want to give this overlooked gem a shot. Remember, doing so is at your own risk.