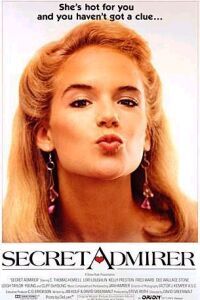 Somewhat known among 80s teen comedy aficionados, but still seemingly underappreciated for its type, Secret Admirer bridges the gap between the teen sex flicks that dominated the early 80s with the John Hughes inspired teen classics of the middle of the decade. While it will never be considered a classic by any means, even among its own genre, this is still one of the better examples of how to make a goofy teen romance that males, females, and even adults (it is R rated) can equally appreciate.
C. Thomas Howell (Side Out, The Outsiders) stars as a high school student named Michael, who, shortly before he is finished with his junior year in high school, receives an anonymous love letter from someone who is revealing her hidden passion for him. Michael is unsure who it is from, but with the suggestions of his geeky friends, he becomes convinced that the author of said letter is none other than the hot chick he has been obsessing over, the school knockout, Deborah Ann Fimple (Preston, Jerry Maguire). With the help of his best female buddy, Toni (Loughlin), Michael decides to send Debbie some love letters right back, but Toni thinks they are so awful, she rewrites his letters into much better ones without his knowledge. Debbie, who is seeing a college jock, immediately becomes enamored of the touching writing, and must find the boy who has such passion for her. Meanwhile, the letters keep getting lost in the weirdest places, and those who find them are mistakenly attributing the letters to other people thinking they are for themselves, in a chain reaction that ultimately affects Michael and Debbie's entire families.
Perhaps one of the reasons why I enjoy Secret Admirer comes from the fact that, unlike many of its brethren in dumb teen sex comedies, the creators of this film aren't content to just show titillation, hock the soundtrack, and make fun of the demographic they are trying to appeal to. Co-written and directed by David Greenwalt, who would later do mostly television work for teen series such as "Buffy the Vampire Slayer" and "Angel", this is a smart and energetic film that, despite some of one of the more contrived premises you're ever likely to see, manages to succeed by keeping the story constantly moving and changing, and actually do it with some wit.
There are some downsides. Although Greenwalt never confirms the identity of the initial "secret admirer" until the end, there is hardly a mystery to it, and it probably would have made things less dubious had he started out showing us the culprit from the get-go. Also, let's face it, Lori Loughlin (who would go on to do TV's "Full House") is far too attractive to buy as the geeky girl of the group that none of the guys realizes is the hottest babe in school, perhaps rivaling Deborah herself.
Still, there are some very funny moments, including some in-jokes for teen comedy buffs that show just how clever the writing is. Any film that actually has the guts to show dumb teenagers referring to films like Doctor Zhivago, Tender is the Night, and The Way We Were, is already of a different breed, If you love anything 80s, and especially if you like the teen comedies of the era, Secret Admirer gets a solid recommendation for some genuine laughs and a smarter-than-average screenplay.
Qwipster's rating: