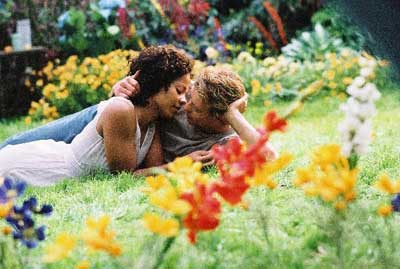 Something New
may not entirely be true to its name, but it is something a little different than the norm, and in turn, it is also something refreshing in its own right. At its core, this is a formula romantic comedy, with all of the usual contrivances, conveniences and coincidences that the genre generally entails, but with a much deeper dynamic in its themes that gives the story that extra needed aspect of interest to make it very worthwhile.
Sanaa Lathan (
Alien vs. Predator, Out of Time
) stars as Kenya McQueen, a successful African-American senior executive just on the verge on scoring partner in her firm should she land the latest big account. Although she has family and friends to keep her grounded, she is nevertheless very uptight and phobic about a great many things, to the detriment of her overall happiness, and her nonexistent love life. At the behest of a good friend, she consents to a blind date, but finds the experience uncomfortable, due to the fact that her date is a white man Ė she ends the date prematurely.
Her successes have allowed her the luxury of affording a brand new home, but the backyard is an unruly mess, needing the services of a professional landscaper. The landscaper she hires just so happens to be Brian (Baker,
The Ring Two
), the man with whom she had the aborted date, and while the experience is awkward, he is one of the best in the business, and even offers her a good deal for his services. Things stay on a professional level until Brian notices some things about Kenya that need loosening up, and in his efforts to open her up to happiness, feelings result. However, Kenya never envisioned herself in such a difficult interracial relationship, and the gravity of it, along with the dissenting opinions of her peers, gets in the way of things going to the next level.
For a romantic comedy, Something New isnít really one that goes for the funny bone very often, playing much more like a whimsical drama with strong romantic and sensual overtones. Morrocan-born Sanaa Hamri directs her first feature film here, coming fresh from a stint of directing some very popular music videos, and if anything, she makes the film look vibrant, rich and colorful in a very pleasant way. The script by TV comedy writer Kriss Turner ("Everybody Hates Chris", "Whoopi") is full of insightful material, bolstering giving a new spin on the sometimes pat and predictable events that transpire. The sights and sounds are lush and sophisticated, with characterizations that are sometimes broad in the supporting characters, but never leaning too heavily on stereotype.
However, those are just the extra bells and whistles of what turns out to be a surprisingly interesting romance, with a strong lead performance by Lathan as a woman conflicted between her heart and the guilt she feels in a relationship that many still consider to be taboo. While there have been many films about interracial relationships already, Something New brings enough of its newness to keep this from feeling stale and ordinary, Recommended for open-minded romantic comedy lovers, especially those interested in films with a thematic racial context bound to provoke thought and discussion.