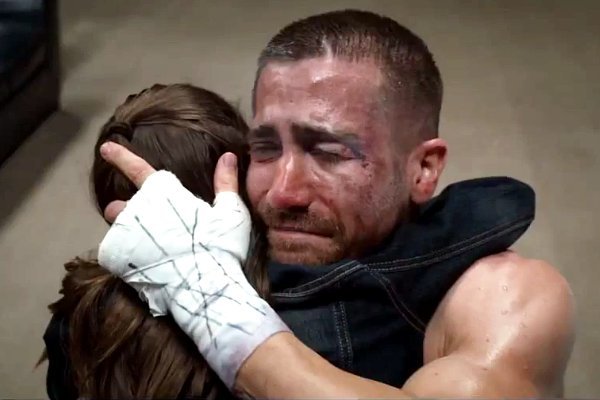 Excellent performances bolster this ramshackle tale of a champion boxer trying to make good with his life following the loss of the one thing that always managed to keep him on track, his beloved wife, both orphans who met in foster care as they grew up on the wrong side of the tracks in Manhattan's Hell's Kitchen. The loss occurred after a hungry would-be contender insults her honor at a charity event, leading to a violent altercation that sees a stray bullet cross her path.
That boxer is undefeated Billy "The Great" Hope (Gyllenhaal, Enemy), whose life at the top implodes when he can't keep his anger in check, leading to a series of self-destructive acts that threatens to undo virtually everything that he and his wife Maureen (McAdams, Aloha) took a lifetime to build up. To bet back on his feet again, Billy's going to have to start again from the bottom, fighting not for revenge, money, or glory, but for the betterment of the life of Leila (Laurence, "Louie"), the daughter he has to raise alone.
Though there are elements of a revenge thriller in play from time to time, Southpaw isn't a film built on payback so much as in trying to keep those impulses in check before that rage consumes you and everything you hold dear.
The perpetually transformative actor Jake Gyllenhaal does a 180-degree turn from his previous role of Louis Bloom in Nightcrawler, going from playing a spindly man who used his sharp intellect and lack of emotion to gain the upper hand to get ahead, to beefy one that is of below average intelligence, running all on emotion, and lashing out physically against anyone and anything that gets in his way. Though Southpaw may not be the kind of movie that Academy voters will deliver accolades to, it's a masterful performance for Gyllenhaal, in a role originally intended for left-handed rapper Eminem (no joke), who breathes a great deal of life to a role that could easily have been deemed underwritten if left to someone who didn't add more to what had been on the written pages of the old-fashioned script.
Nearly as impressive is the work turned in from the supporting cast of Rachel McAdams and Forest Whitaker (Taken 3), who give Fuqua their all in roles that manage to transcend their inherent clichés. The performances of Gyllenhaal and McAdams during the scene in which she takes a stray bullet will rank among the most effective you'll probably see in any movie in 2015. Though she isn't in the film long, McAdams leaves such an indelible impression through her performance that it gives Southpaw the needed emotional resonance to give all of the rest of the scenes that play out a good deal of weight, as we root for Billy, not because we see him as sympathetic, but because she believed he was a good man underneath his thuggish tendencies.
Whitaker continues to show why he's one of the most reliable character actors in Hollywood with yet another nuanced turn, this time playing Titus 'Tick' Wills, the prickly gym owner and inner-city youth mentor who has his own demons to wrestle from a career he saw end just when it seemed about to begin. Fuqua even gets one of the best performances from the usually stiff and unintelligible 50 Cent (Last Vegas), who plays Billy's opportunist (and perhaps underhanded) manager and promoter; he's still not as charismatic as Don King, but he seems in command nonetheless. Kudos should also go to young Oona Laurence for some good dramatic work, even if she's not quite at the level of the others in being able to mask over the artifice of her lines.
Southpaw borrows plenty from other, better films, especially Rocky and Raging Bull, so it's not likely to be considered in the upper echelon of a subgenre that has produced movies worthy of Best Picture nods, as with Million Dollar Baby and The Fighter in more recent years. However, for genre fans, it remains a respectable entry, even though it can be clunky at times, especially in a climax that feels like it is missing a few emotional beats, and an epilogue that seems to be MIA in the process. In the end, it's a split decision, but I'll rule the bout for a recommendation in its favor, even if only by the slimmest of margins. It might not finish up strong, but it should pack enough punch in the early rounds to allow it to go the distance for sports drama fans.
-- The film is dedicated to composer James Horner, who died a month before the film's release. Reportedly, the makers of the film could not afford his usual price for his scores, but Horner was so taken with the story that he composed it for free.
Qwipster's rating