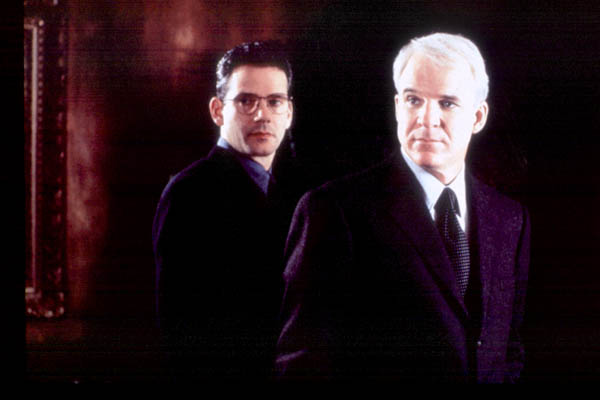 A hotshot inventor (Scott, Big Night) has found a way to make the corporation he works for millions, but he fears that he will not be fully compensated for all of the good things he brings to the company. During a business trip he meets a wealthy entrepreneur (Martin, Roxanne) who befriends him and offers to help him get his due. Unfortunately for him, the company is not the only organization that wants his plans, and soon he finds them missing and on the run for his life.
Twists and turns abound in this nicely constructed David Mamet (House of Games, The Winslow Boy) thriller. It's somewhat reminiscent of North by Northwest, without the humor and gripping direction of course, but many of the integral elements are there. Despite the many twists in the storyline, it isn't very difficult to see where things are leading at times, but the film still offers an insightful and intriguing peek into the nature of good and bad in humanity.
The normally stiff acting of Campbell Scott seems appropriate for his character here, and Steve Martin gives a quality performance in a rare non-comedic role. Mamet's skill as a director is still light years behind his skill as a writer, and like his other film House of Games, the performances tend to be somewhat lifeless. His writing keeps it all together though, and even if it tends to be a little more subdued than it should, it will nevertheless keep the interest of most viewers.
Qwipster's rating:







©1997 Vince Leo