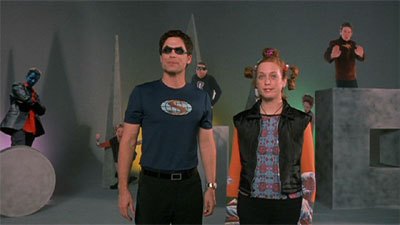 Although many would overlook The Specials as some sort of knockoff of Mystery Men, it's definitely not, and what's more, it is the far superior film. The reason? This one's actually funny.
Not that I would claim it's a great film, as it has some major weaknesses, but taken on its own amateurish, low-budget level, it still works for what it is. As originally conceived by screenwriter and co-star James Gunn (Scooby-Doo, Dawn of the Dead), The Specials was to play out like a reality show dealing with the personal lives of superheroes, showcasing their petty squabbles, inadequacies, and how they deal with the pressures of their chosen occupation when not engaged in heavy battles with super villains. Director Craig Mazin didn't shoot it as such, making it an obvious comedy, with mockumentary interview elements that somehow don't quite jibe with the rest.
The Specials are America's 6th or 7th best superhero team, which means they aren't as respected as the other teams, but they see themselves as a home for the oddballs and geeks who just don't fit in anywhere else. At tis point in their careers, a new member is joining, Nightbird (Jordan Ladd, Cabin Fever), who finds the group engaged in constant nitpicking, getting on each other's nerves since it may be a while until the next catastrophe requires their services. The only big item on their agenda involves a line of action figures coming out in their likenesses, and making sure they set themselves up as good role models for the children out there who look up to them.
The Specials is like a comic book adventure which gives you the behind-the-scenes look that most comic books leave out. It is a spoof at heart, never taking itself seriously, but it has some acute observations that can only come from someone intimately knowledgeable about superhero comics and how they play out.
It is an independent film endeavor, with a scant budget and no major stars, but given the limitations, it is surprisingly well-cast, with good comedic character actors in every role. With the exception of the final shots, there are almost no special effects, and definitely no action scenes like you'd typically find in a superhero movie, so don't expect another X-Men. This one's strictly in the sitcom territory, feeling very much like a pilot episode to a comedy television series.
The Specials is mostly a geek flick, which will enjoy a following among those who have read an enjoyed comic books especially, but might actually have some crossover appeal now that the superhero movies have become more mainstream. It's not quite family fare, as it does feature one sex scene (no nudity), and a liberal amount of foul language (mostly gratuitous), so take this into consideration before letting the kids watch it. However, for adults who still read comic books, or at least, those who grew up with them, The Specials offers a lot to like underneath the amateurishly executed production.
Qwipster's rating: