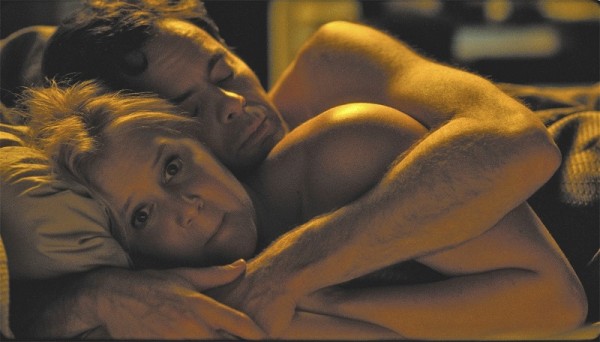 Comedian Amy Schumer gets her chance to shine on the big screen with Trainwreck, playing, appropriately, Amy, working by day as a journalist at a men's lifestyle and celebrity gossip publication, but who drinks hard, gets high, and carouses with the opposite sex even harder when not on the clock. Life's in a predictable pattern of not getting too committed to things until she is assigned a piece on a famous sports doctor named Aaron (Hader, Inside Out), with whom she begins to see, and more than once. Meanwhile, Amy has even more on her plate when her philandering, hard-drinking father, Gordon (Quinn, A Night at the Roxbury), is hospitalized and put into assisted living, while Kim (Larson, The Gambler), Amy's pragmatic married sister, is constantly trying to get her to give up her hedonistic ways. It culminates in Amy coming to rely on the rock-solid support of Aaron, while all the while fighting off getting in too deep due to her own feelings on the kind of life that she should be leading.
If you know Schumer's style of off-color comedy, you'll know that a lot of Trainwreck deals with candid dating observations and sometimes-explicit sexual exploits, filtered into the form of a semi-autobiographical narrative script that she penned herself. It manages to be a cut above a typical sex comedy due to it being more about just sex and relationships, as the film also encroaches into how one's upbringing can affect one's attitudes toward these things later in life, and how major life changes such as illness and death can also cause major shifts in one's entrenched outlook on what to do with the rest of one's life. It also deals with how some people live in order to achieve what they feel will make them happy, while others live in order to avoid those things that cause unease, uncertainty, and pain. Amy is firmly in the latter camp, as risking nothing emotionally then drowning out guilt with alcohol keeps her from losing anything she might hold dear.
Schumer makes a concerted effort to reverse the gender roles typical of these kinds of rom-coms by making the woman the one who needs to mature and the man the one to make her want to live a life better than she has been. However, it's one of those satires on rom-com conventions that also embraces them as well, enjoying tinkering with the formula just enough to distance itself, but also suggesting that there's some merit in the traditional outcome. Schumer shows that, along with her Comedy Central show, "Inside Amy Schumer", that she will likely have legs in the entertainment business. She even nails a moving funeral speech in the film with feelings of emotion that feel absolutely genuine, making her a pretty good actress as well.
Trainwreck is directed by Judd Apatow (This is 40, Knocked Up), which carries with it everything you'd expect, both good and bad, in his first effort directing a script he didn't at least partially write (though that may be a moot point since his movies are often ad-libbed regardless). The 'good' is that Apatow is a seasoned veteran at ribald sex comedies that deal with maturing, and has a good ear for what's funny more often than not. The 'bad' is that he still can't seem to winnow down his movies to 100 minutes, often leaving in entire scenes in the movie that not only aren't funny (a minutes-long scene involving an intervention with celebrities is painfully unfunny, as is a film parody called "The Dog Walker" featuring Daniel Radcliffe (What If) and Marisa Tomei (Spare Parts), but they make the storyline itself feel like an afterthought after a cavalcade of celebrity cameos and to squeeze in his cronies in the stand-up comedy business.
It's overly lengthy and often uneven, but Schumer's characterizations, as well as quality work by an impressive supporting cast that gets funny performances from John Cena (The Marine) and LeBron James ("The LeBrons"), and a nearly unrecognizable turn from a woman who has been making a second career on doing just that, Tilda Swinton (The Grand Budapest Hotel), as Dianna, the unscrupulous magazine editor looking to push things to the limit for their readers. Hader is the straight man in this movie, the nice guy who isn't like the others, which means he's not given many funny things to do other than to react to the kooky characters around him, perhaps another cutting commentary on how women are often underutilized when they are used in these sorts of roles.
Despite the high overhead of Apatow's inability to curb his indulgences, there are enough good belly laughs to be had in some very funny moments, especially as Schumer explores the modern dating scene. The movie doesn't live up to its name, as it stalls occasionally, but never derails. Though there are many stops along the way, Schumer's screenplay keeps Trainwreck on track to its ultimate destination of insightful and very funny entertainment
Qwipster's rating