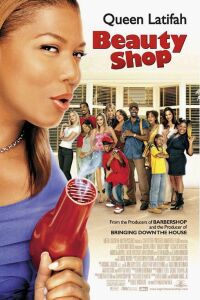 I liked Barbershop and gave Barbershop 2 a passing grade, but enough is enough. The spin-off, Beauty Shop, is little more than Barbershop with women, and while this does change some of the types of humor involved, the formula has finally begun to wear thin on this third time out. It's a shame too, because the right cast is here for a winning comedy, it just can't compete with its brothers in film because it is redundant and quite a mess in structure.
Queen Latifah's (Taxi, The Cookout) character, Gina Norris, originally appeared in Barbershop 2, only she is now transplanted from Chicago to Atlanta, along with her daughter, working for a high-class salon run by the egotistical Jorge (Kevin Bacon, Hollow Man). Jorge is unreasonably demanding, causing Gina to quit and try to make it on her own. After she secures a modest loan, she renovates a rundown old beauty shop and recruits some hair designers to help her, mostly African-American women, which happens to be their main clientele. It's an eccentric bunch, and they barely get along, while their revolving door of customers always keeps the day lively, although sometimes too lively.
Beauty Shop has its moments, but not really enough to make it ultimately worthwhile. The cast is varied and have good chemistry, but they also don't have very many funny things to do or clever things to say. Barbershop may not have been a great film, but it did have great moments, and those moments are exactly what keeps Beauty Shop from taking things to the next level of entertainment. Thoroughly predictable, each character is introduced for a particular purpose in mind, and the events that transpire all proceed along their pre-determined paths without exception.
If you really like Queen Latifah or just can't get enough of the Barbershop formula, I suppose Beauty Shop will probably keep your interest. The music is exceptionally good, and the performers are appealing, but the mediocre script and aimless plotting will make this a tedious experience for anyone looking for laughs or compelling social commentary.
Just like getting a new hairdo, the Barbershop series started off as something refreshingly different and innovative, making you feel good, but after doing the same thing several times, it has now become common and boring. Either this series needs a brand new look and style, or it's going to be out of vogue like yesterday's fashion.
Qwipster's rating: