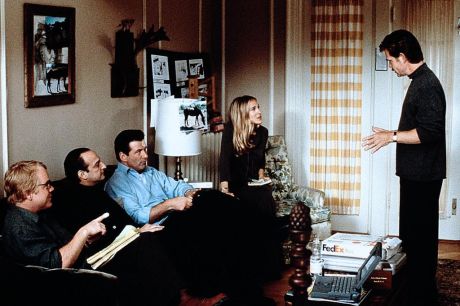 Highly acclaimed playwright and screenwriter David Mamet (The Untouchables, Glengarry Glen Ross) takes the helm as director for the seventh time, and while he's certainly done better as a writer, this is the film where he finally hits his stride as director. With a solid cast of character actors to work with, Mamet avoids the usually stiff and static styles of films past with the energy and life needed to make this lighthearted comedy work.
State and Main follows a film crew who have travelled to Vermont to start shooting a film called "The Old Mill". They had originally started shooting in a small town in New Hampshire, but were forced to leave after heated allegations that the star of the film, Bob Barrenger (Baldwin, Outside Providence), had been involved with a minor. The scene seems perfect, and the fact that the film has an old mill will save on the budget -- a plus since they are already out of money. However, it turns out the old mill has been burned down 40 years before and forces a rewrite of the film, which has a domino effect on the themes and styles of the picture. Complicating matter further, Bob is back to his old tricks, his costar won't do a nude scene, and the town doesn't like these new visitors.
In a word, refreshing. It's always a joy to come across a comedy that has depth without being too heavy handed, and State and Main has more than its share of insightful moments. It's fascinating as a look at filmmaking, and although this type of material has been done before, the writing by Mamet is fresh enough to make it seem like something brand new. Terrific acting by Philip Seymour Hoffman (The Talented Mr. Ripley, Magnolia), Baldwin, William H. Macy (Mystery Men, Batman Beyond), Rebecca Pidgeon (The Winslow Boy, The Spanish Prisoner) and an especially well-played snake of an attorney by David Paymer (Chill Factor, Payback) pile on the pleasant chuckles without hamming it up.
A great satire with a lot of heart. Well acted, well directed, well written -- well done!